Times They Are a-Changin'
Bob Dylan coined the phrase as our story's headline inspiration, and something certainly does seem different in the air around NAI
Hang on for a minute...we're trying to find some more stories you might like.
Every day you sit at your desk. You "listen" to your teacher while "taking good notes". You're tired from staying up late the night before completing your "group" project all by yourself while not having talked to your partners since you decided on the project name. You yawn when you think about tonight, how you plan on typing words you don't recognize into Quizlet until it says you've learned everything you need to know for your test tomorrow. But don't worry, you only have six other periods left, only six more 45-minute classes to sit through in six different chairs.
***
Recently, NAEye sat down with Dr. David Christopher, Ed.D. to discuss the district's upcoming plans to implement block scheduling in all three middle schools, and how that would eventually affect life at NAI.  However, as the conversation progressed, we quickly found the conversation taking a turn for the bigger picture: less stress on test scores and memorization, and more on skills such as critical thinking and collaboration.
So what is block scheduling? As Dr. Christopher stated, core classes such as "English, math, science, and social studies would have 60-minute blocks of time instead of having their regular [45-minute] periods." The core classes each student would take would alternate depending on the day, just like P.E.
It was also mentioned by Dr. Christopher, "It could reduce the student day". This would be made possible by the reduced number of periods. Specifically, there would be fewer 5-minute breaks for switching classes.
"
We've created this stress bubble for you guys"
— Dr. Christopher
Dr. Christopher added that "We are also trying to ensure that we fit in the unified arts programs", not wanting to exclude or neglect any creative interests. Other schools, such as Fox Chapel, have already incorporated block scheduling in their middle and high school.
The administration's reason behind this is that "the world is very different than it used to be". With new technology and teaching techniques that teachers are expected to incorporate into their classrooms, they are also expected to stay in line with their current, set-in-stone curriculums, which can prove to be challenging.
Moreover, the allotted 45 minutes per period does not allow the time necessary to do so. With not enough time in class, teachers are unable to encompass everything that students need to know to be prepared for out of the classroom as well as in it. More creative-like skills that are useful in everyday work life are just as crucial to a student's success as traditional academics. But, they are often left out of classes and curriculums because they do not fit into the school schedule.
This development is not merely a split second decision for the district. Administrators have spent over 126 hours planning it with careful consideration, though block scheduling is still not ready to be implemented until 2020 with even more planning to come. For the high school, there is "no current plan", but future plans are a possibility if middle school block scheduling is successful.
"
It's like a Sudoku puzzle on steriods"
— Dr. Christopher
With all of this planning, new and innovative ideas for the future of North Allegheny have arisen. Dr. Christopher went in-depth about new potential revisions that could coincide with block scheduling.
For example, the school district is looking thoroughly into what is causing student stress. They do believe there is a difference between learning and standardization. Some students are constantly stressed about needing to receive perfect grades or getting into a prestigious college, when in reality, "Kids [from NA] who are in the bottom 20 percent of their class still get into Pitt and Penn State", commented Dr. Christopher.
They also want to make sure that collaboration is a key part of the classroom. Instead of straight memorization, they believe in the productivity and worth of group work and cooperation.
Dr. Christopher explained: "When you have a group project, we will hand you a rubric that says, 'this is how you are expected to collaborate on this project'. Part of your grade is going to be whether or not you're able to do that."
Additionally, Dr. Christopher hopes to introduce additional electives which may serve students later in life. A class that teaches basicfinancial literacy, for example, would undeniably be beneficial for the future.
"
If we start looking at top employer skills, none of them will perform well on a standardized test- zero"
— Dr. Christopher
More training for teachers was another discussed topic. Because of all of these schedule changes, teachers are going to need to be prepared, and a whole year of training could take place. All of these adjustments are being made to help make the school environment less stressful.
In the future, teachers could have their own individual prep periods and a "team planning period" after school with other teachers. This would be done to encourage collaboration and help identify which students are struggling. To further prevent students from being over-scheduled and overwhelmed, teachers would communicate with each other about which days they have tests and assignments planned for. This would ensure that serious overlapping rarely occurs.
Dr. Christopher added, "One of the reasons we would even think about doing that is because you would have a lot less homework potentially." With more time in class, teachers do not feel the need to assign homework as much. They would then not have to resort to sending their unfinished classwork home with students since they would be able to finish teaching it in class. And, they could rest assured that their students got enough practice in school, so extra practice is unneeded.
Block scheduling is only one innovation that can take place within the next few years at North Allegheny's middle schools. Along with it, education is slowly but surely moving towards advocating creative skills as part of a larger definition of "academics".  
About the Writer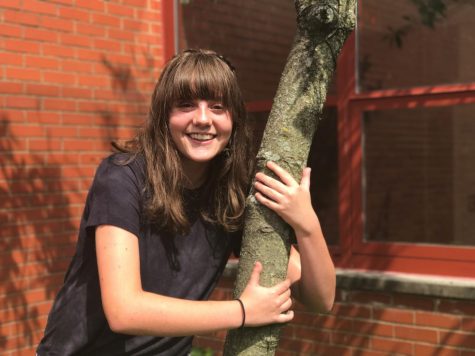 Meg Patterson, Staff Writer
Grade: 10



Years on staff: 2



Role: Staff Writer



Life soundtrack: (song) "Where is my Goat" by Taryn Southern



hobby/ sport/...