School Safety: The Root of the Problem
We speculate and wonder if active shooter drills are a reliable way to reduce and eliminate school violence.
Hang on for a minute...we're trying to find some more stories you might like.
School shootings have seemingly been a larger focus of schools and media in the past few years. As shootings increase, so does heartbreak, national worry, and furious debate. Everyone shooting brings more and more attention to the question– what is the best way to make sure our schools are safe?
It's obvious that safety has become a more complicated issue in the eyes of the school board and administrators. Because of this, North Allegheny students were recently briefed on an app, Safe2Say, which reinforced the concept of reporting any risky or violent behavior by peers. While the app's introduction was essentially uncontroversial, it raised some questions about the preventative measures taken against school shootings. Commonly, people wondered, if we were really targeting the right issues.
That's the most debated question of them all. What's the root of the problem? Should we be more proactive against violence in our schools?
It seems that today, America's main stance against shootings is to prepare for the worst case scenario. As soon as they enter kindergarten, we begin telling kids the magical rule if a bad person comes. Lock the door. Turn off the lights. Sit in a corner. Be quiet. Don't trust the person knocking on the door. They could be a bad guy trying to hurt you.
It becomes completely mundane, practicing these drills every few months. After all, they are mandated in forty states across the country. It almost subtly implies the idea that, no matter what, it can happen, here. No matter what, you're not completely safe.
Actually, shooter drills can prove to be traumatizing for young kids. Criminologist James Alan Fox, who studies mass shootings at Northwestern University said, "Active shooter drills are a constant reminder that you've got a bullseye on your back."
Experts compared today's shooting drills to the procedure done in the 1960s during the Cold War. Students were told to hide under their desks to increase their odds of survival in case the United States was bombed. Studies showed that in those instances, students were more likely to actually draw mushroom clouds and picture their own deaths after the drills.
If active shooter drills were sure to guarantee student safety, they would be worth it. However, the harsh reality is that kids often panic or forget in the face of a real disaster. Additionally, there is evidence that the Parkland school shooter actually used his knowledge of these drills to maximize casualties.
So, should schools prepare students for the slim chance of a shooter? Absolutely. But should these drills become so common and realistic that they ignite fear? If they're not even guaranteed to help, should we really be using them as the primary level of defense for our children? Isn't the bigger threat all the things that happen outside of the school– in our national environment– that lead to these tragedies?
Blame for the violence ranges from a lack of gun control to mental illness to bullying, and rightfully so. Studies have shown that school shootings are less likely to occur in areas with mandatory background checks for firearms and more mental health funding.
This is nothing new. It's been said time and time again. However, it seems to be ignored. Sure, there are laws in 80% of our states requiring active shooter drills, but only eleven states require universal background checks on gun purchases.  Two other states, Maryland and Pennsylvania, require a point of sale background checks on handguns, but not rifles. In fact, a 2017 study found that 22% of gun owners required their most recent weapon without any background check at all. That's a horrifyingly large number.
Already, Americans own half of the guns in the world while only counting for 5% of the total population. In our country, there are an estimated 89-100 guns per 100 citizens. Basically, that's a lot of guns in a country with very relaxed laws.
Of course, that study also said that mental illness is a factor. However, people with mental illnesses exist everywhere, and mass shootings are more likely to happen in the United States of America, with its unique gun laws, than any other country in the world. Does that add up… or prove that one obstacle is more of a problem than the other?
It's not all politics, either. It's not taking away 2nd Amendment rights. It's recognizing the facts and using common sense. It's acknowledging that nothing else has really helped.
During the Safe2Say something live stream, they often talked about recognizing the signs of violent behavior among peers, and yes, that will help prevent some of the senseless violence. But, in reality, a school shooter isn't always a student. The app can, however, proof helpful with preventing suicides and self-harm. Since 2016, suicides have been the second-leading cause of death for teens. So, maybe the app shouldn't be our primary defense against shooters, but it's still a good thing.
Gun control and mental illness aren't new topics. They are constantly being heavily debated in the news and in politics. In fact, when writing this piece, it becomes painfully obvious that it's all been said before. But nothing is changing. No action is being taken while we all are getting lulled into a false sense of security by these elaborate but often times useless active shooter drills. It's not a matter of education or personal opinion. It's ignorance.
That's why it's important that when we, as a school, are examining our safety measures, we don't just look at some last-ditch efforts. We must continuously keep studying the facts and real reasons behind school shootings in order to be an informed student body and to break the pattern of violence.
About the Writer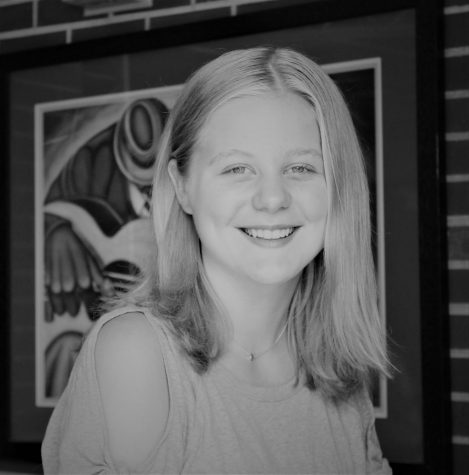 Kristen Kinzler, Staff Writer
Kristen Kinzler is a sophomore at North Allegheny Intermediate High School. This is her first year as a journalist on the newspaper staff. She loves playing...