The NAI Community Gathers to Help One of its Own
After a fire took SRO Paul's home and possessions, the NAI community stepped in to help out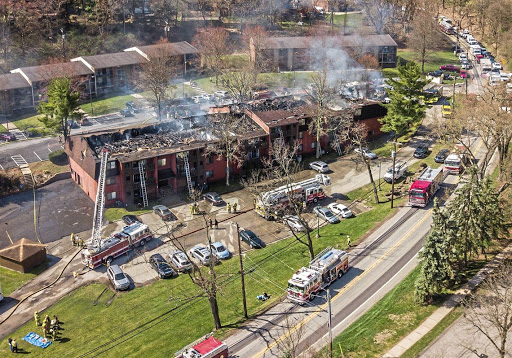 Hang on for a minute...we're trying to find some more stories you might like.
"I heard a call there was a fire at my building, and I immediately thought 'I need to go, my cats are in there I can't leave them.' Officer Metzger told me not to go and I said, 'Well they are going to have to shoot me, because I am going in.' So, I run around the police car outside of the building, past other officers and firefighters and run into the burning building. I got out one cat, and told the other to wait right there, I will be back soon. When I got out, my shirt was on fire because so much debris fell on top of me. The smoke was so thick I couldn't see, I collapsed at the top of the steps. Lost my phone. Started back down the steps. Collapsed again, and I said 'Lord I'm sorry but you are not taking me. I need to get my other cat.' While I was not allowed to go into the building again, my beloved cat was saved and is doing well."
A few weeks back, tragedy struck our beloved Student Resource Officer Paul Stellitano's apartment. A fire broke out around 10 a.m. on April 10 at the Durham Court complex in McCandless.
Officer Metzger recalls, "I went to the apartment when the fire was basically out. I went up to find him, he was actually in his apartment when it was totally destroyed, the roof had collapsed, there's a lot of debris on the floor, still smoldering and it was in ruins."
After hearing the tragic news, NAI sprung to action to help cover some of the costs. Student Council, with advisor Mrs. Hunt,  decided to use the money from our annual donation delay day to help those affected by the fire.
When asked about the donation, NAI Princiapal Mrs. Ewing said, "The amount was totally unexpected, and when I looked at the staff after the fire, we all immediately knew that we should give it to him without even saying a word."
Officer Paul was extremely gracious, but accepting the money was hard for him. Officer Metzger describes him as, "…a giver, not a taker, so it was hard to take."
To express his gratitude, Officer Paul wrote a letter to those who helped him.
---
The Letter:
Words cannot begin to adequately express our gratitude for the outpouring love and support from family, friends, coworkers, acquaintances, North Allegheny Intermediate and High Schools administration/faculty/staff/students and their parents during our time of crisis. Rest assured we are extremely grateful to ALL benefactors, any omission is unintentional. As one could imagine, we certainly NEVER anticipated such an unimaginable tragedy to occur; our daily prayer is that no one in or outside of our circle EVER has to experience such a catastrophe or ANY devastating life-altering event.
We are truly humbled and blessed to have our lives spared and those of our two fur babies intact together with the knowledge that all residents in the 30-unit Durham Court apartment building successfully escaped serious physical harm, as did at their beloved pets.
Where our attention was formerly focused on material possessions, this unfortunate event brought the realization that only living, breathing humans and creatures matter most; memories cannot be erased, "things" purchased/acquired and once held dear can be easily replaced.
A gracious THANK YOU from the bottom of our hearts and depths of our souls for all blessings, as well as the unexpected, abundant and overwhelming assistance (financial, clothing, furniture, gift cards, etc.) bestowed upon us, ALL l of which is and will forever be greatly appreciated. We also take this opportunity to extend our gratitude to the local Police, Volunteer Firefighters and Paramedics for their service and dedication.
We now look forward to making a fresh start with the request that you continue to keep us in your thoughts and prayers.
Namaste,
C & Paul