The Kids Are Alright
Constantly, we're portrayed as brainless Instagram influencers. Is this depiction true?
In the year 1965, a band entitled The Who wrote a song called The Kids Are Alright. Today, this song and its meaning works as an anthem for kids around the world. How you may ask?
Since children, especially teens, of the 21st Century are constantly looked upon as lazy, non successful humans by many older generations, this song allows them to show those generations that they are much more. 
One does not have to look too far to find young people doing outstanding things that have shaped this world to be better. Look around at the students who walk the halls of NAI. Many may not admit their impact, but the students here have been a part of things that most adults cannot say they have done.
From volunteering to expressing one's true identity to just performing random acts of kindness, the students of NAI have proved they are more than what generations before them have preconceived about their generation. 
"
Many may not admit their impact, but the students here have been a part of things that most adults cannot say they have done."
Sometimes the smallest acts of kindness are the ones that leave the largest impressions on people. Kade Kleinerman, a sophomore at NAI, shows what it means to put others before yourself.
Kleinerman said, "I participate in random acts of kindness and donations! Every year for my birthday I make a goodie bag filled with handmade jewelry and small gifts, and then I go to a local mall or event (sometimes community days at the end of the summer) and give them out to people! I do that or go to a local animal shelter and make a donation. Also, every holiday season (and end of the school year), I make handmade gifts or baked goods for all my teachers and other staff members to thank them for all the hard work they do every single day for us! Furthermore, every day during my study halls and lunch, I go down to our school's library to shelve books, create displays, or any other task that they may need to be done. I have been helping out in the NAI library for the second year now, and I have also helped in the Marshall Middle School library for a few years. I will occasionally stop there after school to help if needed or just to say hello!" 
Kleinerman proves the notion, "all teens are self-centered humans" wrong. Not every teen is all about themselves. 
Vishaal Komagiri, a freshman, expresses how young people can do more than buy clothes and shop for themselves. Komagiri said, "I worked under the organization, Global Links, that packaged clothes and sent them to the developing parts of the world, including Africa, the Philippines, and Honduras."
"
Kleinerman proves the notion, "all teens are self-centered humans" wrong."
Komagiri is not the only student who devotes their time to help others outside of their own community. Sophomore Madyson Cieszynski has traveled to different areas of the country to provide others in need and experience their lives. 
Cieszynski said, "My church, St. John Neumann, went on a mission trip this past summer to Niagara Falls to help out the community there and all the people living there. We got to meet and talk with residents, help out at food banks, nursing homes, shelters, and a variety of other places and experience the hardships people living there face." 
Cieszynski was not the only teen to join on the mission trip to Niagara Falls. She went with many other teens from all around Pittsburgh to make a difference in others' lives. 
Kai Bauer, a freshman, also participates in church activities to better the lives of others. Bauer said, "The youth in my church gathers every week, and sometimes on the weekend for activities. These activities are usually services for others and the community, and they teach us valuable life lessons. I feel strongly that my generation will succeed beyond expectations."
Sophomore Jaida Copeland has dedicated her time to volunteering for her church as well. Copeland said, "I play a role in my church mostly. I help with things like VBS, decorating, or anything that they need me to do." 
The impacts teenagers of today have achieved also include academic advancements. Alok Shah and Bryan Chen both have been involved in making technological impacts in the sense of robotics and computer sciences. 
Shah said, "Steel City Codes allows me to expand the discipline of computer science to kids all around the state. It's fulfilling being able to share my passion with other people." Shah has expanded his passion and talents to others to allow them to learn more about computer sciences. 
"
Both students have proven that their passions and talents can be spread to other people to change and improve those people's way of life. "
Chen said, "My robotics team not only got first place in a category at an international robotics competition, but we designed a shower head that could prevent legionella, a potentially deadly bacteria, from growing, saving lives."
Both students have proven that their passions and talents can be spread to other people to change and improve those people's way of life.
Along with physically giving and creating essentials for people to have an easier life, students like freshman Kaitlyn Klinefelter and Aideen Scanga have helped other students find their true selves and learn to express that. 
Klinefelter was the founder of the first Gay Straight Alliance (GSA) at Carson Middle School. 
Scanga continues to be a leader for others as well. Scanga said, "I was one of the leaders of Marshall Middle School's Project LIT Community, and through it, I've been given the opportunity to allow people to see themselves through literature, as well as be able to approach modern topics from a new angle by reading first-hand accounts of some of the many faces of the issue. I think (or at least hope) that through my work, I've particularly been able to help to try to cultivate a sense of belonging and welcoming for LGBT+ students. I think we did a nice job helping to educate and inform staff of some LGBT+ issues that they very well may someday be confronted with. Through the club, I was also able to volunteer for Bookish in the Burgh, a local YA literature fest, where I was able to meet and interview some up-and-coming authors. I was able to hear diverse voices and opinions from both the other volunteers and authors on a variety of subjects, and am very excited to do so again this year!" 
Both students have informed along with encouraged and led other people and students to a greater understanding of the modern world. 
Some teens are completing personal achievements like freshman Aris Pastor. Pastor said, "I am in the middle of writing a 100,000 word novel." 
It can be quite effortless for older generations to look at the younger generations of today and simply state that all children of the 21st Century are lazy and non successful, but that generalization continues to be proven incorrect by not only the students at NAI, but also students from all over the world. 
This generation is strong and constantly completing achievements that are shaping this world into a better place for all people. No matter how large or small the impact, each one plays an important role in the advancement of the future. 
The Kids are Alright. They truly are alright.
About the Contributor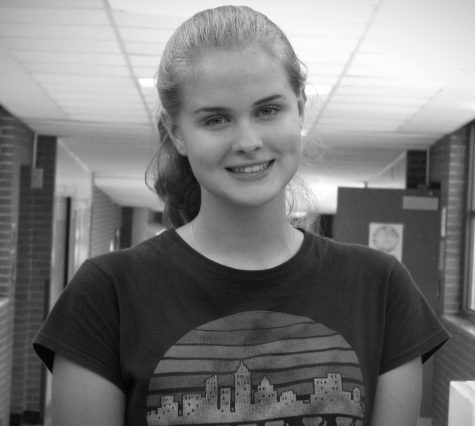 Anna Parsons, Staff Writer
Anna is a sophomore at NAI this year. This is her first year writing for NAEye newspaper. Anna enjoys participating in the arts including theatre, painting,...