VMAs Not Short on Controversy
This year's VMAs, which aired on MTV on September 12, received the program's lowest broadcast ratings in its history, but was a smash on social media, proving the show's mix of performances, awards, and controversies is still something to talk about.
Lil Nas X's performance and award, Justin Beiber's award controversy, and BTS winning multiple awards broke the internet on all social media platforms and their names were trending globally. Many viral Tiktoks were posted about this award show.  
Rapper Lil Nas X performed his hit song "Industry Baby".  The song is known for its provocative dance scenes, and Nas X decision to perform reinforced the idea that he doesn't care about others' opinions of him.
Lil Nas also won the Video of the Year award for his other hit song "Montero (Call Me By Your Name)". 
K-Pop band BTS won the awards for Group of the Year, Song of the Summer for "'Butter"', and Best K-Pop. They were trending globally with many BTS fans going to social media to congratulate this boy band. 
Pop singer Justin Beiber won the award for Artist of the Year which was met with criticism on social media. 
Observers were quick to point out that Beiber's new album was lackluster and that other nominees like Doja Cat and Ariana Grande were more qualified to win.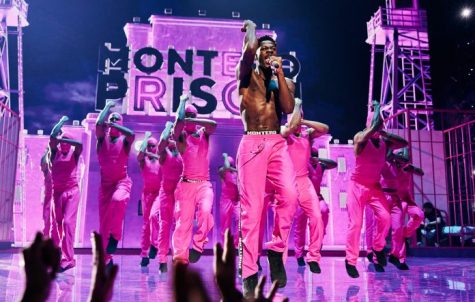 Beiber fans responded on social media saying that he broke the record for most monthly listeners on Spotify with 86 million and that the hit song "Peaches" had 375 million views. Still many claimed the VMAs are rigged and have lost their credibility after Bieber's win.