Sexism in Sports: Serena Pleads Her Case
Williams was docked a whole game by umpire Carlos Ramos. However, we wonder if the same punishment would have been given to a male player.
Hang on for a minute...we're trying to find some more stories you might like.
Serena Williams is known as one of the best tennis players, and athletes, in the world. But after the US Open Final, she hasn't been making headlines for her talent or athleticism. Instead, she has been in the spotlight in a heated debate over sexism and double standards in the tennis world.
On Saturday, Williams was competing against Naomi Osaka in the US Open Final. With Williams vying for her twenty-fourth Grand Slam tournament win, and Osaka fighting to be the first Japanese player in history to become victorious, it was clearly a tense match. Tensions only rose when the umpire, Carlos Ramos, saw Williams's coach, Patrick Mouratoglou, signaling to his player, which was considered coaching. Coaching of any kind is not allowed in the Grand Slam rulebook, so Williams was issued a warning, since that is all one offense warrants.
Williams reacted offensively, arguing with Ramos and claiming she would never cheat. "You owe me an apology," she said.
Well, she certainly didn't get her apology, and things only went downhill from there.
After the warning, Williams was winning 3-1, when she lost a game, narrowing her lead. Frustrated, she smashed her racket on the ground, and Ramos called an official penalty and docked her a point.
"You stole a point from me," Williams said, angrily, before calling Ramos a thief. Her reasoning was that this penalty should have been her verbal warning, since she did not receive coaching.
Her words, passion, and tone caused Ramos to call yet another penalty for abusing an umpire, and he gave a game to Osaka. Williams then lost the next game, so Osaka won her first Grand Slam.
Now, here is why all that matters.
There have been many male tennis players that have reacted the same way as Williams did and received no punishment at all.
Professional male players such as James Blake and Andy Roddick have weighed in on Twitter, saying they have said worse and not been penalized.
Specifically, Ramos has been in several heated arguments with male players in the past. He typically gives a "soft warning" or lets it slide completely.
So, why was his reaction so different when it came to Serena Williams, an African American woman?
It shows a clear double standard. When a man gets angry and defensive towards an umpire, his fans usually go wild, claiming he is being passionate and self-righteous. But, as soon as a woman does the same, she is labeled as emotional and impulsive and gets penalized for it. Women have always received much less tolerance for expressing themselves and are often quickly written off as sensitive or crazy.
In this way, it is clear that the penalties called by Ramos had sexist motives and are unfair to any female athlete. Williams should not have been penalized for something that her male counterparts never have faced consequences for. It is unacceptable that in 2018, women in sports are still plagued by this inequality.
However, just because the match reffing was handled completely wrong, Williams still should be held accountable for her actions. After all, she was coached, slammed a tennis racket on the ground, and disrespected an official, even if that particular rule isn't always enforced when it comes to male players. So, while the umpire's response was unfair and revealed a troubling double standard, Williams broke the rules all on her own and could have handled her response more appropriately. She could have shown much better sportsmanship.
Just because a few hot-tempered men can break a rule by arguing or swearing at an official does not mean it's okay for others to do it as well.
The display at the US Open has sparked many mixed reactions. One of the most explosive responses was a cartoon by Mark Knight that was published in the Herald Sun, an Australian newspaper.
This cartoon has been perceived as offensive, racist, and sexist– and rightfully so.
Many people are saying it resembles cartoons that were published in the Jim Crow south, and shows Serena as hysterical and throwing a fit.
It also portrays Osaka as a white woman, complaining to the umpire. This is unjust because she played her heart out and had a historical win for the Japanese community. Drawing her this way just belittles her accomplishment.
So, no matter how Mark Knight feels about what happened at the US Open, he chose one of the most offensive ways to express it.
But, still, the main issue that needs to be addressed here is the sexism that has been rooted in sports for a long time. Women are constantly underestimated and underpaid in the industry. For example, in 2017, the U.S. women's soccer team brought in more money than the men's team but was paid nearly four times less. Another example of this double standard occurred in August, when France tennis player Alizé Cornet was given a code violation for removing her backwards shirt for barely ten seconds just to flip it around, when minutes before male players were lounging around shirtless to cool off.
Even in girl's youth and high school sports, many older male refs yell at players for getting too rough by calling out "Calm down, this is a girl's sport," or "Come on, let's act ladylike," Why are they teaching these girls that they can't be ladylike and strong? That a girl's sport can't be just as tough? Why bring gender into the conversation at all?
The mistreatment of women in sports is nothing new, and while Serena Williams is not completely innocent in this scenario, she has just brought attention to that concerning fact.
Maybe the worst part of the whole spectacle is that everyone is arguing when they should be celebrating Naomi Osaka's historical victory. She became the first Japanese player– male or female– to ever win a Grand Slam. It's truly a shame that her win has been overshadowed by an umpire's bad calls and the sexism that still clearly takes root in US tennis.
About the Writer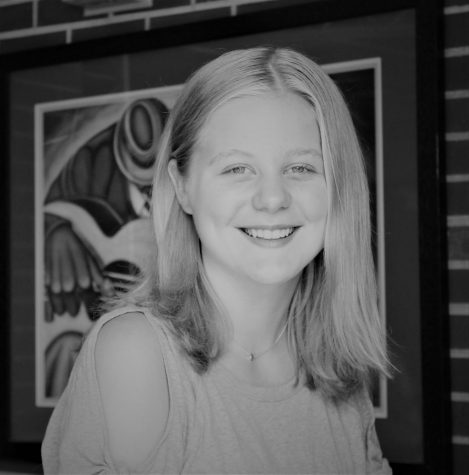 Kristen Kinzler, Staff Writer
Kristen Kinzler is a sophomore at North Allegheny Intermediate High School. This is her first year as a journalist on the newspaper staff. She loves playing...